Item number: PT-150 SET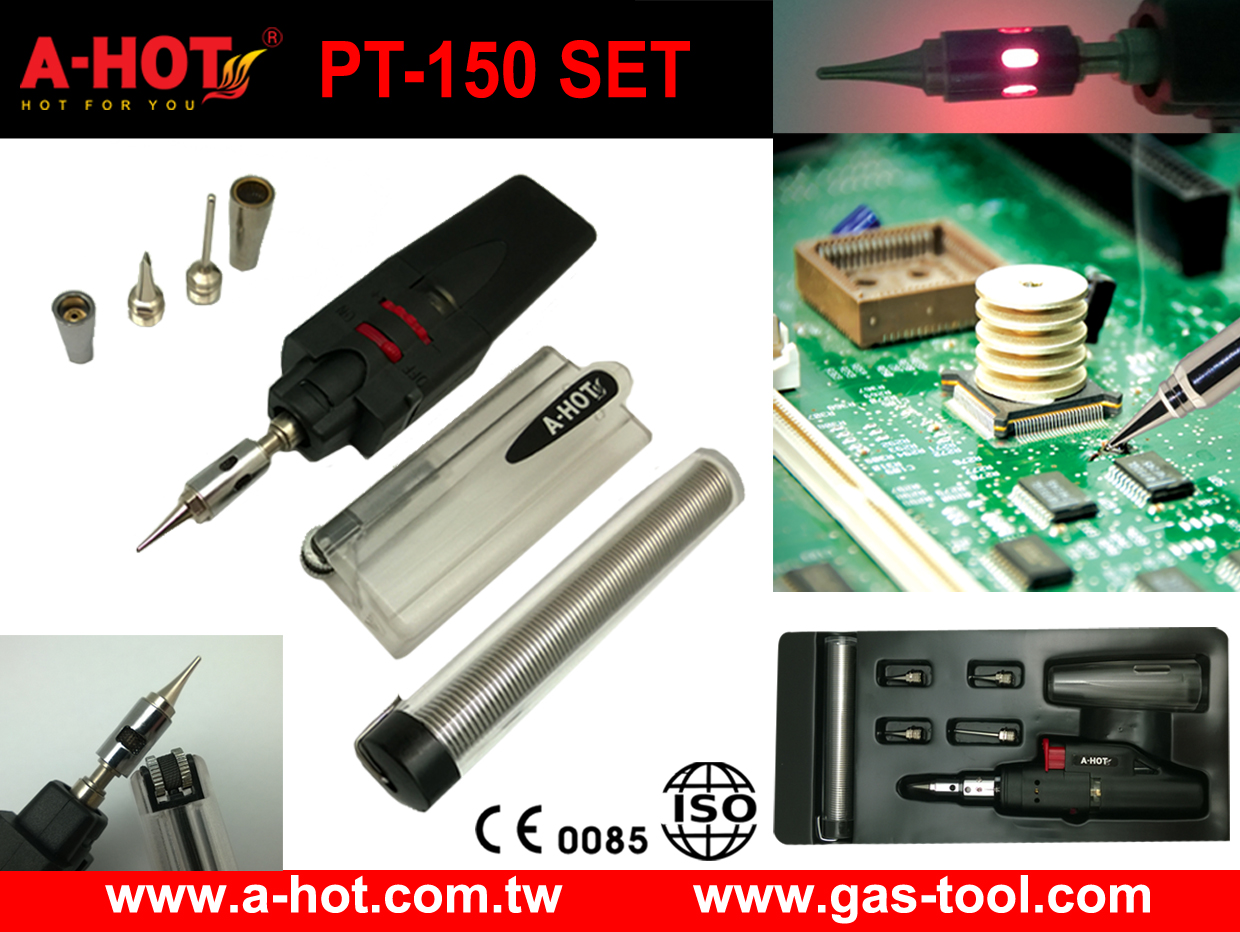 Specifications:
Dimensions:     PT-150 SET
Height:              140 mm
Width:               30 mm 
Grip Diameter:  30 mm
Dry Weight:       60 g
PT-150 SET, Platinum Catalyst Soldering Iron Set
(Without Piezo Auto Ignition)
1. PT-150 Butane-Powered Soldering Iron x 1pc
2. Torch Tip                                                 x 1pc
3. Heat Blower Tip                                      x 1pc
4. Hot Knife Tip                                           x 1pc
5. Cap                                                         x 1pc
6. 2.4 MM Chisel Tip                                   x 1pc
7. 60/40 Rosin Solder Wire                         x 1pc
Packing: PP Box + Color Sleeve
Description:
To Meet CE Safety Standar.
For Compliance With ISO 9994: 2005 Lighters Safety Specification. 
Features:
With " Flint " Fire Stone Ignition.
Applications:
General Heating and Drying Application                    Heat Test Electronic Components       
Stretch VinylsLight Gauge Welding                           Thawing Frozen Locks                    
Jewelry, Eyeglass Frame Repair                                Dental Wax Corrections
Wire Harness and Connector                                     Model Building
Electrical / Electronic Circuit                                      Arts and Crafts
Technicians, Engineers                                             PVC Bending
Electronic Components                                            Preheat Flux
Light Gauge Welding                                                Brazing
RepairStretch Vinyls                                               
DIY Hobbyist                                                    

A-Hot International Co., Ltd.
9F, No. 637-1, Sec. 5, Chongxin Rd., Sanchong District,
New Taipei City 24158, Taiwan
Tel: 886-2-2999-7299; Fax: 886-2-2999-73
39
Website:

 
Email:
                                         

This email address is being protected from spambots. You need JavaScript enabled to view it.



                                         

This email address is being protected from spambots. You need JavaScript enabled to view it.

   
                                         

This email address is being protected from spambots. You need JavaScript enabled to view it.