Item number: AH-063 SET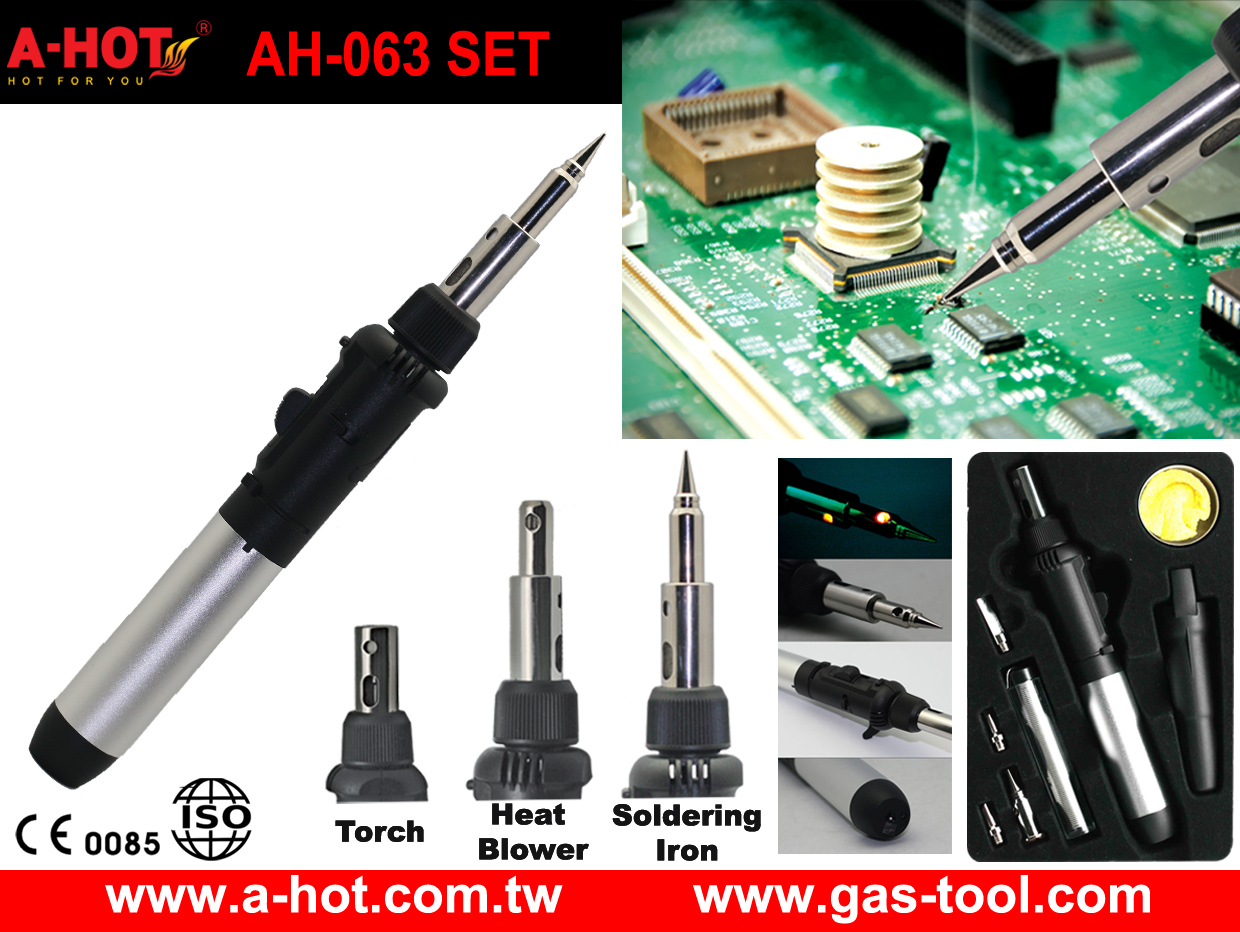 Specifications:
Dimensions:     AH-063 SET (8 IN 1 SET)
Height:              245 mm
Width:               35 mm 
Grip Diameter:  30 mm
Dry Weight:       95 g
(when gas filled)
Flame Length:   55 mm
Approximate temperature-soldering iron-tip: 210~400°C (410~850°F)
Torch: 1300°C
Gas Container Capacity: 17ml
Operating time (one gas filling): 100min, at mid setting.
1. AH-063 Butane-Powered Soldering Iron / Torch x 1pc with Catalyst and Piezo Auto Ignition.
2. Cap x 1pc.
3. Solder x 1pc
4. Clean Sponge x 1pc
5. Hot Kinfe x 1pc
6. 1.0mm Conical Tip + Catalyst Rom x 1pc
7. Chisel Tip x 1pc
8. Angel Tip x 1pc
9.Packing: PET Inner Tray + Transparent Cover + Color Box
Description:
The Flame Can Be Adjusted
To Meet CE Safety Standar
For Compliance With ISO 9994: 2005 Lighters Safety Specification 
Features:
With Safety lock
With Piezo Auto Ignition
Applications:
General Heating and Drying Application
Electrical / Electronic Circuit Repair
Light Gauge Welding
Brazing
Jewelry, Eyeglass Frame Repair
Model Building
Arts and Crafts
Dental Wax Correction
Thawing Frozen Locks
PVC Bending
Preheat Flux
Heat Test Electronic Components

A-Hot International Co., Ltd.
9F, No. 637-1, Sec. 5, Chongxin Rd., Sanchong District,
New Taipei City 24158, Taiwan
Tel: 886-2-2999-7299; Fax: 886-2-2999-73
39
Website:

 
Email:
                                         

This email address is being protected from spambots. You need JavaScript enabled to view it.



                                         

This email address is being protected from spambots. You need JavaScript enabled to view it.

   
                                         

This email address is being protected from spambots. You need JavaScript enabled to view it.